Pens with unique features.
Your comments would be welcome!





Parker Pompeian Brown/Terra Cotta Lucky Curve Jr Button-Fill Fountain Pen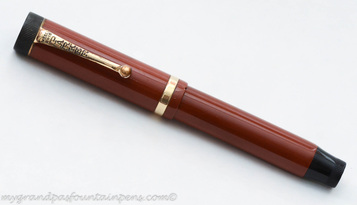 Call this color what you will. It may be prudent to judge this pen based only on the criteria put forth in a comprehensive essay written by George Kovalenko. Mr. Kovalenko writes that, no matter what color, a true "Pompeian" needs to have been produced in 1921. On the other hand, Jim Mamoulides - PenHero.com states, he has a Parker document listing all models produced from 1921 through 1923. Pompeian Brown is listed as a model produced during this time, which would explain this color with the raised cap band.

What we know: This pen dates to about 1923. The color is glossy brown/terra cotta. The pen is hard rubber. When lightly rubbed with white cotton cloth, a bright redish/rust color is noted. The nib is a 14K Parker Lucky Curve Pen #4. There is a crisp medium size Lucky Curve banner imprint on the barrel. Under bright light with a good loupe, you can see a very light ghost image of a large Duofold imprint under the medium Lucky Curve banner imprint. At some point this was stamped Duofold, but was over-printed with a Lucky Curve imprint. Other than one small chip with a short vertical crack in the cap lip, the pen is in perfect condition. Crack does not go up beyond the cap band. Other than removing the old sac and cleaning all the ink from internal parts and nib, pen has been left in the condition it was found.

The debate may continue about "correct" terminology, but whatever you want to call it, this pen is very interesting and most unusual...

Email for additional information. Any serious offers will be considered.

Comparison between Pompeian Brown color and a RHR 1924-25 ish Duofold Jr W/ medium Duofold Jr. imprint

RHR Jr weighs 22.7 grams - New sac installed
Brown Jr weighs 17.9 grams - Just pressure bar - no sac
506
Parker Canadian Senior/OS? 1st Gen Vacumatic

Model – Vacumatic
Date Code - Crisp 18 imprint - 1st qtr. 1938
Filling System – Lockdown vacumatic
Color – Jet Black
Size – OS/Senior?? Slimmer girth with streamlined design. 5 1/4" capped and about 6 3/8" posted.
Trim – Unusual thin thick thin cap band shows one small area of brassing on the top edge of upper thin band. Thin lines of brassing along both jewel tassie edges and along high spots of clip "arrow" end. Correct double black jewels.
Nib – Monotone 14K Parker USA fine/firm, with just a touch of bounce.
Condition - Crisp Made in Canada Vacumatic barrel imprint. No personalization. Beyond minimal desk/use wear, glossy surface has a few spots at edge where blind cap meets the back of the barrel. Not sure about terminology, maybe slight delamination at very edge of barrel end? There is a indent around back of barrel where it looks like pen has been posted and slight ripple on surface of cap above where the inner cap resides. Restored and ready to fill and write for another 78 plus years.
Sold
506
Comparision

top = Canadian 1st Gen Standard
middle = Canadian 1st Gen OS

top = OS Canadian

left = OS Canadian
602
Parker 1 jewel Maxima Vacumatic in Burgundy


Has been debated back and forth as to what is up with this pen. Here are the facts:
Made in USA barrel imprint with date code 1 dot 9 (3rd qtr 1939)
Star Clip would seem correct for 1939
Wide Maxima band - was used until 1941
Aluminum speeline filler - was used until 1941
Striped top jewel - 3rd generation blind cap fits barrel perfectly with matched color striation
No section, feed, or nib
Extremely clean with no sign of ink and excellent barrel clarity
sold

560
Parker Vacumatic dated 27 with 2 dots (2nd qtr. 1937) 1st Generation Vacumatic
Odd color / Lamination ?